Attending Physicians at The Laurels of Hillsboro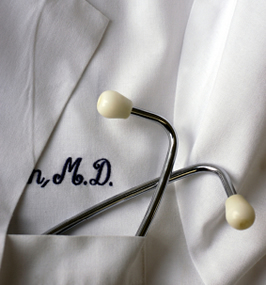 The Laurels of Hillsboro is very pleased that many surgeons and attending physicians follow their patients at our facility.
If your physician does not have admitting privileges, our Medical Director or other attending physician will be happy to oversee your care while you are staying with us. If you have any questions regarding your physician coverage, please don't hesitate to contact us at (937) 393-1925. We can assist you to ensure that you will have physician coverage.
The current list of attending physicians at The Laurels of Hillsboro includes, but is not limited to, the following:
David Gunderman, MD, Medical Director
David Gunderman, MD is Medical Director at The Laurels of Hillsboro. He attended Xavier University in Cincinnati where he received his undergraduate degree. Dr. Gunderman attended medical school at The University of Cincinnati and graduated in 1987. At The University of Cincinnati he completed his internship and residency and was appointed to Active Staff in 1990. Dr. Gunderman currently holds hospital privileges at Highland District Hospital. When he is not seeing his own patients, he is very visible at The Laurels visiting guests where he is very well respected for his expertise and fine beside manner. Dr. Gunderman has been Medical Director at The Laurels of Hillsboro for approximately 15 years. Dr. Gunderman and his wife Lori, live in Hillsboro and are very proud parents of their 6 children.
Steven Battaglia, MD
Dr. Battaglia completed his Medical Degree at Medical College of Ohio at Toledo and his Internship/Residency at Catholic Medical Center of Brooklyn and Queens in Jamaica, New York. He has served the Adams and Highland county areas for more than 15 years, and continues to follow his patients at The Laurels of Hillsboro to make their transition from surgical care to home, easier. Dr. Battaglia and his wife, Elizabeth, manage Tri County Surgery in Fayetteville, Ohio, where he has his office.
Jeffrey Beery, MD
Dr. Jeffrey Beery has been an Attending Physician at The Laurels of Hillsboro for 6 years. He was born in Wilmington, Ohio. He received his undergraduate degree from Miami University, Oxford, Ohio and attended University of Cincinnati College of Medicine where he received his medical degree. His internship and residency were completed at Francis Scott Key Medical Center in Baltimore, Maryland. Dr. Beery began working at Highland District Hospital on 6/15/92 and continues to serve Hillsboro residents there. His private practice is located at The Osler Medical Center. Dr. Beery and his wife, Tara, a local veterinarian, live in Hillsboro with their son Jeffrey and an abundance of pets.