The Laurels of Hillsboro - A Skilled Nursing & Rehabilitation Center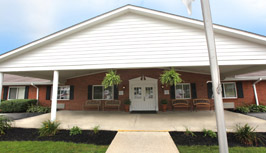 The Laurels of Hillsboro is located in beautiful southwestern Ohio just two miles from Highland District Hospital. Our wonderfully decorated facility offers a safe, home-like environment for both short-term and long-term guests. Our enclosed courtyard with butterfly garden and several pleasant common areas offer guests and their visitors a place to enjoy each other.
In November 2011, The Laurels of Hillsboro underwent renovations including: new wall coverings, wall art, furnishings, nurses' station and remodeled employee lounge. Our front lobby has been renovated with new wood flooring, cozy furniture, and a coffee station. We have a new front porch with patio furniture for our guests to enjoy. In addition, our guest rooms have been renovated including: new paint, draperies and blinds, and flooring in guest bathrooms.
Our facility offers outstanding rehabilitation services in a dedicated rehab unit with veteran staff therapists. The dedicated rehab unit offers private and semi-private rooms equipped with televisions, telephones, free cable and Wi-Fi to help our guests feel at home while recovering. Our programs draw guests from Highland, Clinton, Ross, Adams, Brown and surrounding counties for our physical, occupational and speech therapy services. Helping these friends transition as quickly as possible from hospital to home is our never-ending goal.
The Laurels of Hillsboro nursing staff is experienced in caring for individuals with heart disease, respiratory problems and diabetes, as well as many other disorders. Because we conduct an initial assessment, admission conferences and periodic "care conferences" for each of our guests, they and their families are always kept informed.
To keep life vibrant for our long-term guests, we offer activities, events, community outings, and birthday and holiday celebrations that often include guests' families. Regardless of the type or level of care required, each of our guests receives professional, comprehensive care marked by compassion, dignity and respect. We consider each guest "family" because that's The Laurel Way of Caring, and our associates will tell you it comes from within.